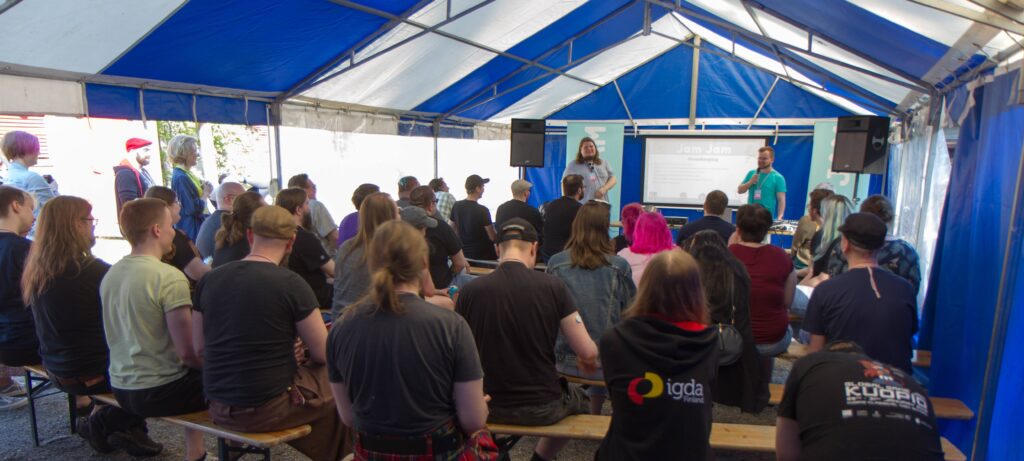 Jam Jam is a festival and retreat for game jam organizers and anyone interested in learning, discussing and sharing ideas on game jams. Jam Jam 2022 is organized by the Finnish Game Jam and located in the middle of a Finnish forest, on top of a mountain called Sappeenvuori – about 2 hour car ride from Helsinki (see details from Sappee.fi).
The event consists of talks on game jams and jam games and workshop day. During your visit you can decide what you work on – bring your jam organizing team and work with planning or debriefing your jams or come without an agenda and talk with all other jam organizers and jam-organizers-to-be, brainstorming new jams and sharing lessons on organizing events.
---
Program
Friday
12:00 Bus leaves Helsinki
15:00 Registration opens at Sappee
16:00 Cabins available
16:30 Opening ceremony
20:00 Saunas & hot tubs open
24:00 Saunas & hot tubs close
Saturday
09:00 Workshops start
13:00 Lunch
18:00 End of workshops
19:00 Saunas & hot tubs open
19:00 Grills heat up
24:00 Hot tubs close
01:00 Saunas close
Sunday
13:00 Lunch
15:00 Closing ceremony
15:30 Cabins closed.
16:00 Bus leaves.