Pocket Jam #4 is over! This year the entire conference has been moved into the Kaapelitehdas, and where is the conference – there is a jam! The location was very cool this year in all means. Jam took place in the cellar, right under the main conference with 45 jammers in total. By this way, Pocket Jam #4 was in the middle of the conference and at the same time, it had a cool, chill and creative space with many visitors from upstairs.
This time the topic was "organic". The topic was chosen because of its simplicity and wideness at the same time. "Organic" as a theme is relevant to mobile gaming and can be interpreted in many different ways: nature, insides of us humans, organic coffee, etc. In this way, this word turned into a creative push for our jammers for implying organic vision into the games.
This year in total 11 games have been created. All games were finished and uploaded according to the deadline and each participant was inspired by friendly competition. Despite the limited amount of development time, with a bit more than 24h, published games really can blow your mind!
Also, we had a panel of judges from Pocket Gamer were nicely colour coordinated with their fashionable outfits – all of them had flowery white and blue shirts, maybe because we were in Finland. They are professional game journalists that have already a long career with them, so they were able to ask good questions from the teams and appreciate the level of polish and creativity.
Here is top three Pocket Jam #4 games:
Overall this year Pocket Jam is a great success again. The creative crowd that developed an amazing jamming vibe with conference touch. Also, we even have received feedback in case of comparison with hackathons – how nice the atmosphere was, how welcoming everybody was and also how much learning happens in the jam compared to the hackathon.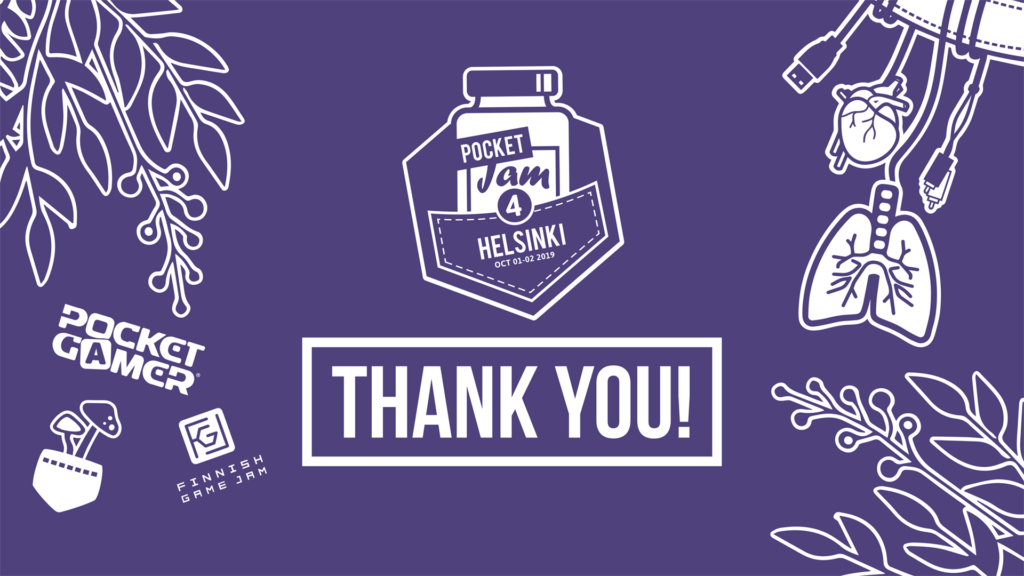 Thank you all for a great event!
Please follow the link and check out Pocket Jam #4 games.
See you at Pocket Jam #5 in 2020!
#pocketjam4 #PGCHelsinki #gamejam #gamedevelopment