As a part of our scholarship program, Finnish Game Jam sent Elie Abraham and Ludwig Sandbacka to the Lyst Game Jam (DK) to represent the Finnish jamming scene. Here is Elie's report about the wonderful jam.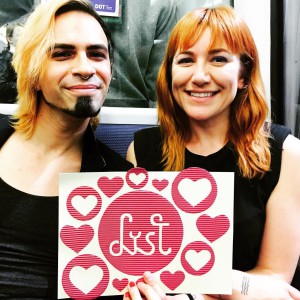 What an intense experience I had at Lyst this year. For those unaware, you must realize that the Lyst Summit focuses on sex, love, and romance in video games. I've never previously attended such an intimate game event. From the talks to the game jam to the after party, this summit is a personal experience. You cannot engage the topics and themes of Lyst without preparing to share an intimate space with the other participants. Here's how it went down (with pictures by Gemma Thomson!):
Day one of Lyst initiated with simply finding the adorable boat that it was held on. It was a small and intimate space to match the small and intimate nature of the special weekend to come. The first day was for the symposium. After opening words from organizers Patrick Jarnfelt and Andrea Brasch, the symposium kicked off with Queering the Controller by Miguel Sicart, a mind-blowing talk on how video games are increasingly exploring the spectrum of human emotion, but video game controllers are still essentially the same conventional model. Miguel posits that we should be looking to sex toys, play "controllers" that allow us to explore our very bodies, for direction and inspiration. Still inspired by Jonatan Van Hove's Burn the Keyboard workshop from Nordic Game Jam on designing controllers, I can't help but feel that designing a controller should be considered a part of the game design process. This would perhaps present the opportunity for designing a controller that fulfills one of Sicart's dreams: A controller that responds to moisture.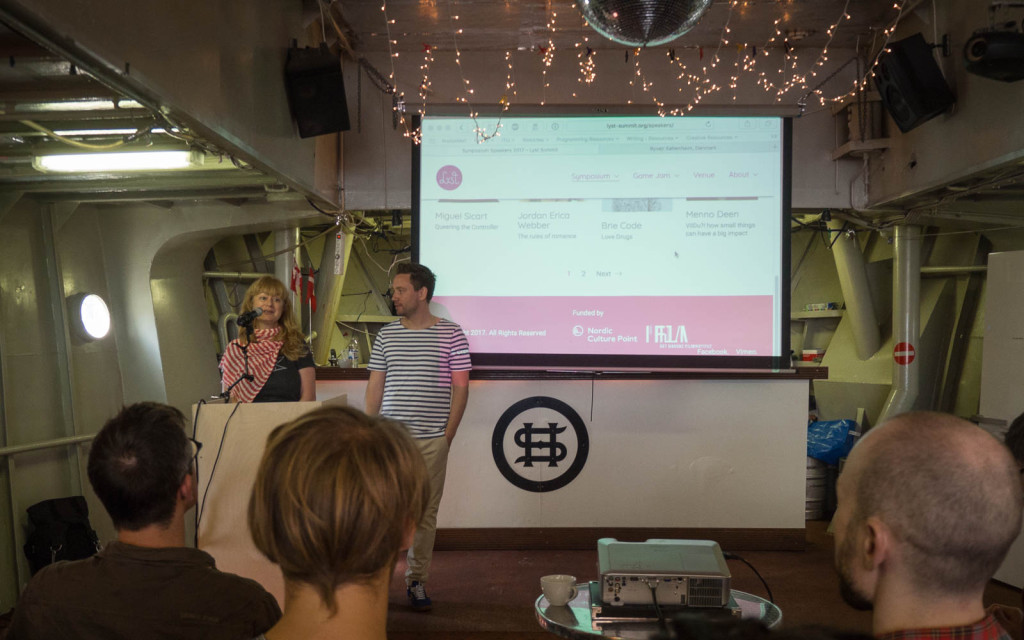 I wish I could spend this entire post regurgitating every stimulating talk I saw, but for the sake of length, I'll briefly revisit a few others that stood out to me (but they were all so good!!):
1) Menno Deen's talk about VilDu?!, a game he began working on at a previous Lyst game jam years ago, which grants a new kind of voice for children to discuss sexual trauma. It was incredible to see how video games could help little victims of abuse and the presentation even included footage from a therapy session in which a child learned how to communicate through this game. It was difficult, but moving to watch.
2) Interfacing Intimacy by Maya Magnat. There's a strong series of voices claiming that technology is distancing us, but through technology-driven interactive theater performances Magnat shows us new ways technology allows us to connect to each other intimately, including performance in which participants would communicate to Magnat what they were commanding her to do via WhatsApp messages to a VR experience in which participants see themselves holding hands with someone while actually holding hands with Magnat sitting across from them at a table in real life.
3) I saw Brie Code's talk Love Drugs for my third time and her message never resonates any less. Code's talk discusses stress responses and how we're all familiar with the fight-or-flight response, but we've completely missed out on the workings of another key stress response: tend-and-befriend. This gap in our understanding of physiology is one of the main reasons we see so many games that live off adrenaline-inducing action, but so few games that center around concepts of care.
After hours of talks and sharing meals together outside in the sun, the symposium was coming to a close and the jam was just beginning. We were each given a bag with some goodies and one of the ingredients for this little surprise was a miniature bottle filled with a particular beverage. We were to find other people with bottles that had the same liquid in theirs… and that's how our jam teams were formed! My game jam reputation is essentially that I sit somewhere with a sign and teams come up to me for audio. At Nordic Game Jam, I ended up working on 13 games. To confine myself to a space where I worked with only one team was already unusual and interesting for me; I'm not used to feeling like I'm actually a part of the team at game jams as much as a freelancer.
My team consisted of me (audio), Jesper Juul (code), Ene Esgaard (art), and Mattew Baume (design), who gave a talk titled Playing With Pride that included many wonderful clips of interviews with queer people in the gaming community discussing their experiences. Together, we conceived A Couple of Changes, a game inspired by power dynamics in relationships and sexual encounters that must be played by two players in which neither player has any control over their body. Instead, the gameplay mechanic is that the means in which a player can interact with the world are altered as a player sends new limbs to the body of the other player, including limbs inspired by kinks, such as tentacles, but also including some necessary arms, legs, and, of course, genitalia.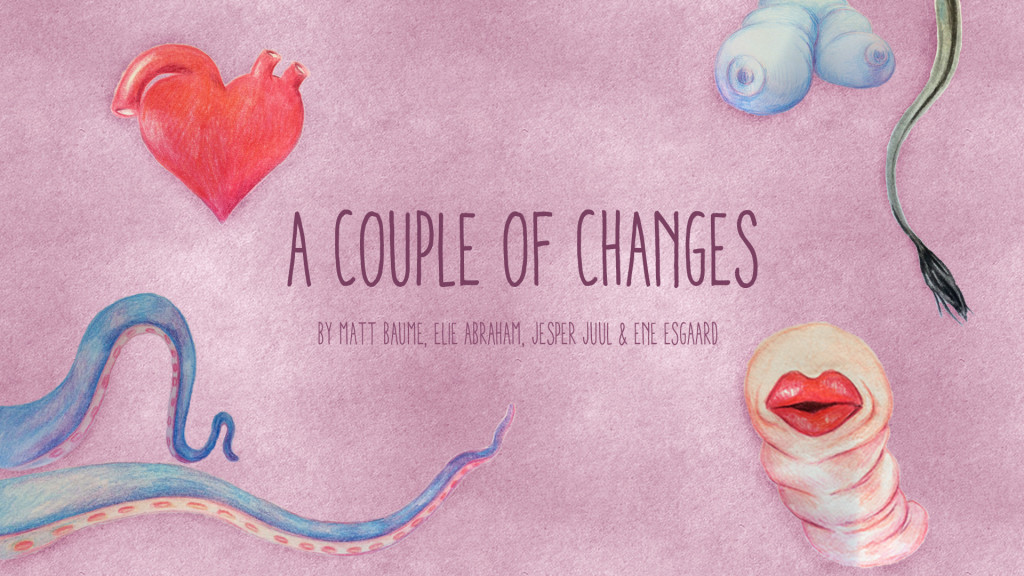 There are two parts of Lyst that struck me most: 1) The playful, energetic, even "childish," borderline summer camp vibe. It's amazing to get that feeling of being in a tight-knit quickly-connecting group willing to jump into all kinds of play and games as an adult. 2) The safe space explored and intimacy that came from the games created over the game jam.
It was difficult to miss that every single game required at least two players with the exception of Lyster, which was more of an app that required "players" to make dating profiles that generated songs based on our responses. Early into the presentations, I volunteered with your boy Cukia Kimani, who was recently accepted to Stugan to work on Nyamakop's puzzle platformer Semblance, to help demonstrate Bitter/Sweet, a game that requires players to alternate taking turns mirroring the other's actions as they reach for food and maintain eye contact as they eat their food of choice, picked to represent a response to a sentence displayed on a laptop.
Another team created The Goddess & The Alchemist, which requires a blindfolded player to interpret the touch and motions of another player as directions on how to create a concoction from a series of ingredients laid out on a table before them. When looking at the options, one immediately sees how much of a bizarre cocktail could emerge, but "the goddess" must be careful because, at the end, they both have to drink it together!
One game that I ended up putting a lot of time into was Blanket Space, which literally just has three "players" sitting beneath a blanket together such that they're touching and sharing their thoughts about topics written on cards. In our case, we sat such that our legs touched, held hands, and discussed desires, dreams, and nature. It felt like we had vanished into another space entirely and were completely oblivious to everything beyond the blanket.
Again, I'd like to discuss every game, but in the interest of length I'll leave you on BDSMDSB, a BDSM Strategy Deck Builder. Gemma Thomson came out and announced that the game was ready to be tested and I jumped up, looked at the crowd and shouted "Who here have I not met or interacted with much this weekend wants to try this game with me?" Zack Wood raised his hand and this is how we met. We went to the top level of the boat and, as BDSMSDB requires a "dom" and a "sub," decided that he would be the former and I would be the latter.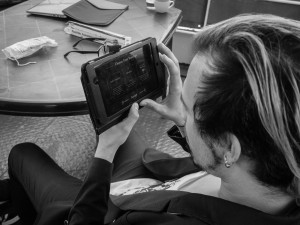 The way it worked was that I, the one submitting, was given a tablet and could pick from a series of virtual cards the ways in which I felt comfortable being touched/bound/interacted with. Afterward, I gave the tablet to Zack, the one dominating, who would look at what I've consented to and then carry out these actions in any order he desired.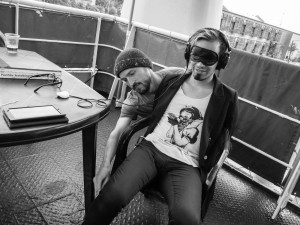 Zack immediately blindfolded me, bound my hands behind my back, and put on my headphones to cancel out the sounds of the world. After that, he touched different parts of my body that I had consented to being caressed with his hands, cotton pads, and the soft end of a pen. At one point, he simply lifted my blindfold to hold my gaze for a moment before continuing. It was an incredible way to meet someone, all orchestrated by this app designed in a single weekend. In that moment, nothing could have better proven the point of Magnat's talk two days earlier.
There was only so much I could cram into this post as the weekend felt incredibly full and the space was incredibly close and intimate.
Together, we jumped into a subsection of the world we live in daily in which we could imagine a setting where people can feel safe interacting more bravely and intimately and having these interactions facilitated by technology, even creating opportunities for sensual touch. Upon returning to Helsinki, I felt like I needed time to digest my experience abroad and readjust to what the world is conventionally "really" like. I must thank Finnish Game Jam for this opportunity that I would have absolutely missed if it wasn't for their scholarship and will be sure not to miss Lyst any year in the near future. If you want to hear more about it, feel free to contact me on Twitter @elieabraham64.