To promote Finnish jamming scene, Finnish Game Jam awarded a scholarship for one jammer to join the Train Jam 2016. From many excellent applicants, Samuli Jääskeläinen got selected to represent us Finns on the third annual Train Jam running through the USA. Samuli has returned from the journey with a ton of new experiences and shares them with us in his travel report: 
Jamming from Chicago to San Francisco
I took part in the annual Train Jam before GDC San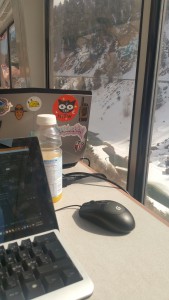 Francisco this year. The jam ticket was sponsored by Finnish Game Jam and I am grateful for getting this chance to participate in one of the most well known jams around the world. Train Jam lasted for 52 hours, traveled through seven states and hosted 200 fabulous jammers around the world. I have been part of various international game jams, but this was the biggest non-internet jam I had ever landed my feet on. It was crazy to have ⅔ of a train to be dedicated for game development filled with professionals, indies, students, academics, press and other gamedev loving people.
My journey started one day before the jam, arriving into Chicago munching a Chicago style pizza and sleeping for 13 hours to eliminate any jet lag left from flights across the Atlantic ocean. There was a pre-party organized by local indies behind Bit Bash. I missed the party by being too tired, but the following day I bumped into the party organizer at the jam's opening breakfast. Local indie scene seemed vibrant and lively, I would definitely recommend not missing on the pre-parties.
After the breakfast was over, team forming began and the theme was announced: Maximum Capacity. Theme reflected the overly crowded restaurant perfectly. I made my way through crowds looking for a perfect match. I met all kinds of fun people on the way and discussed about many crazy ideas. Game jams usually have a very nice and welcoming atmosphere, here it was even better and it only got better once we jumped onto the train.
There wasn't a lot of time to form teams before the train left, so many, including me, waited for the train to form their final team. I already had a possible team in mind, but I wasn't sure if the team's game idea was interesting to build. As a jammer, for me, the making process of the game is way more important than the final product. Usually the best outcomes come from ideas that are enjoyable to work with. That said, just before I physically entered the train, I met my soon to be team on the line.
Ben Burbank and Emily Dillhunt were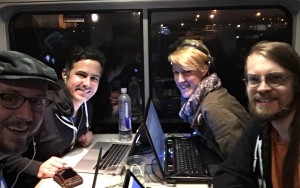 doing a narrative-driven first-person exploration game with puzzles in it. Ben's coworker Sean Vanaman was doing the story, so I was excited. It is very rare to get dedicated storytellers in game jams, even more rare to get ones that have as much experience as the guys behind Firewatch. We divided tasks on the train: Sean was handling the story, Ben did majority of the code, Emily was responsible for art assets and I was patching everything together in Unity doing level & puzzle design and helping out Ben and Emily when more code or art was needed. Later we were shortly joined by Lindar Greenwood as well, on the audio department. Lindar did audio for various games on the train so we only borrowed them for a few hours.
We didn't encounter any major setbacks. The game development went smoothly and the team worked together extremely efficiently. We ended up with a decent game called Discharge. You can read more about the actual design behind the game from Ben's blog post.
There were three unique, train gamedev specific challenges that I encountered. Firstly, moving train makes accurate mouse movements hard. Using a drawing tablet is even more trickier. It was lucky that we went with art deco style so we could utilize vector-like art with Emily. Secondly, the sun glare at my screen during days was horrible for doing level design. We wanted dim lightning for the game, so I had to do most of my light placement during nights or short tunnels. Thirdly, there was no internet or connection was spotty. At one point I had to open up Substance Designer from Steam, but I had forgotten to enable offline mode for the program, so I had to quickly hijack a public wifi during one of the stops to log in.
After 51 hours we arrived to the final destination. Yes, you read it right, 51, not 52, the train was one hour early. You can imagine the last minute development panic that happened when everyone lost an hour of critical polish time. Games were publicly playable at the GDC, now you access them from itch.io. 200 jammers resulting 63 games, team size averaging at 3. The jam was success in numbers and those statistics don't lie, it was the best non-internet based jam I have had the pleasure to take part in. The gorgeous views definitely didn't hurt either.
Samuli Jääskeläinen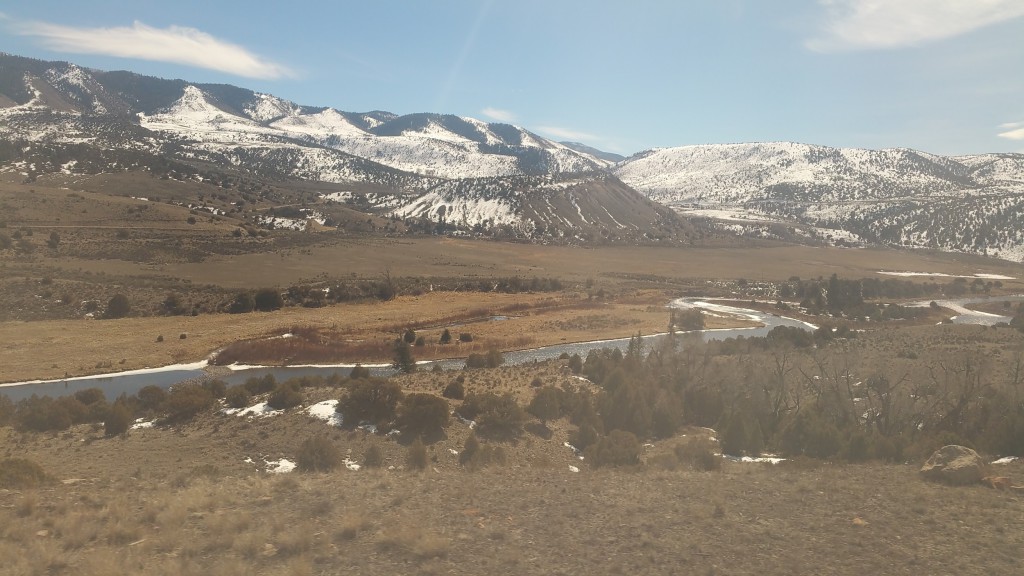 Thank you, Samuli, for bringing back valuable experiences and promoting the Finnish game jam scene! The Train Jam had a good representation of Finnish jammers, as Annakaisa Kultima and Timo Nummenmaa from Finnish Game Jam ry participated in the event as well.