Another FGJ has been completed! Thank you everyone for participated no matter what role!
Every year despite limited time, we are amazed what you jammers can do. This year in Finland we had 32 sites, more than 700 jammers who developed 238 games.
You can find all the games developed in Finland on the Global Game Jam page:
https://globalgamejam.org/2020/games?title=&country=FI
This year, GGJ had over 48,700 jammers attending 934 jam sites across the world in 118 countries, all coming together became the biggest jam ever! Once again GGJ has broken all of last year's records and become the newly-crowned Biggest Game Jam Ever! 
GGJ had 9 new countries take part for the first time ever: Albania, Benin, Burkina Faso, Cyprus, Mauritius, Senegal, Sudan and Zimbabwe, adding 213 jammers and 35 new games to the mix. One of GGJ's biggest aims is to be able to bring new emerging voices and talent into the game making space, and welcome these new site organisers and jammers to our big jam family.
The global theme for GGJ20 was repair and jammers incorporated this theme as a concept in their games in different ways: various states of repair, breaking and repairing buildings and pots, repairing relationships, and plants repairing themselves.
In Finland we were lucky to have amazing national and local sponsors this year as well. We want to extend a big thank you to all sponsors one more time, we could have made #FGJ20 this awesome without them.
#FGJ20 wouldn't be possible without Futureplay Games as our national GOLD Sponsor for the event! A huge thanks to this inspiring company!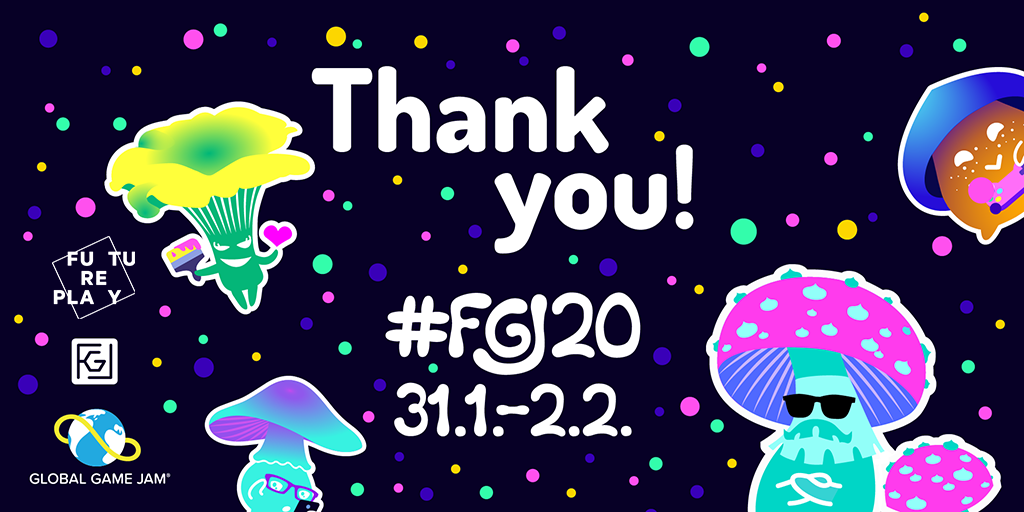 Thank you again everyone who attended or followed the action through our streams and social media, it was crazy but amazing weekend! Follow our Facebook, Twitter and Instagram and see you all at the next jam!