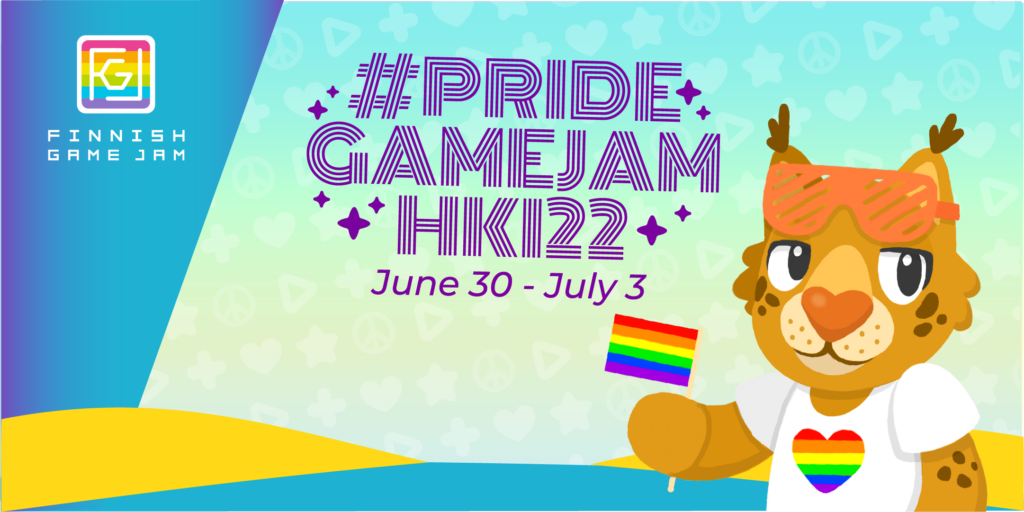 It's time for the third annual Pride Game Jam HKI! This year we start by having a workshop day on the June 30 and by jamming all weekend July 1 – July 3 of 2022!
Pride Game Jam HKI – is a four day event that celebrates LGBTQIA+ people by creating a safe space for expressing one's gender, sexual and romantic experience through art, music and of course games!
The event is part of Helsinki Pride Week 2022, and is organized by Finnish Game Jam ry in partnership with Helsinki Pride ry. This year our jam will run in hybrid mode! Meaning you have a venue to come to and jam with your buds, but also you're free to stay cozily online – all workshops and speakers will be streamed directly to you through Twitch! Be ready to celebrate with us, and get delighted with another brilliant ✨care package✨ to set the jamming mood (please sign up by June 21 if you want the care package) !
NB! Venue is not available on June 30 for jamming.
Pride Game Jam HKI is taking place on June 30 – July 3 of 2022. The event aims to educate on LGBTQIA+ experiences, and help budding game devs to learn key skills in teamwork, design, and familiarize with relevant software! Everyone is welcome, including allies, regardless of skill level and background!
Registrations and more information at Eventbrite