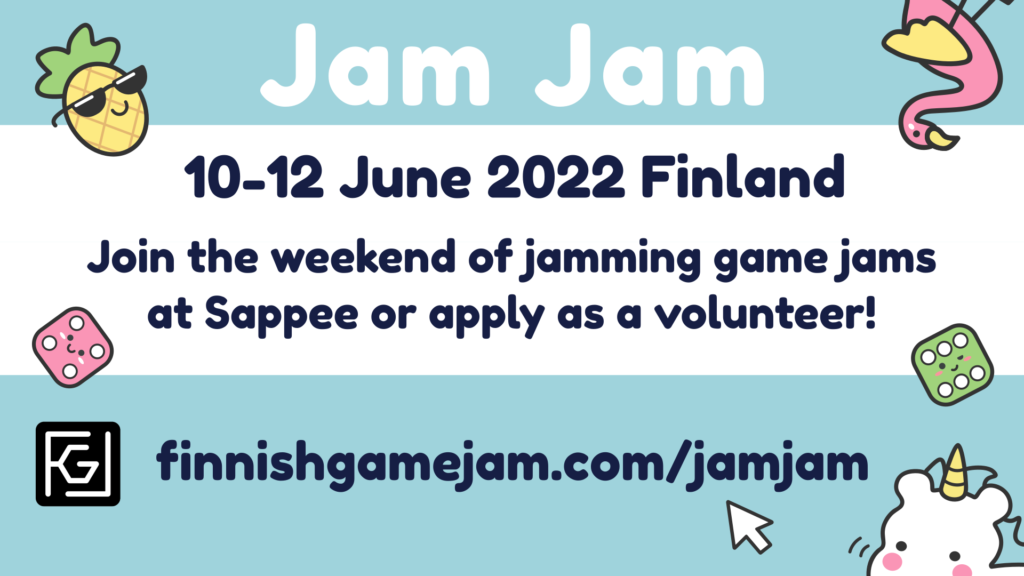 Jam Jam is a two-day summer festival and retreat for game jam organizers and anyone interested in learning, discussing and sharing ideas on game jams.
Jam Jam 2022 consists of a workshop day and talks on game jams and jam games. During your visit you can decide what you work on – bring your jam organizing team and work with planning or debriefing your jams or come without an agenda and talk with all other jam organizers and jam-organizers-to-be, brainstorming new jams and sharing lessons on organizing events.
Retreat in a cozy cabin environment
The event is located in the middle of a Finnish forest, on top of a mountain called Sappeenvuori – about 2 hour car ride from Helsinki (see details from Sappee.fi). The venue consists of eight well-equipped cabins with saunas and hot tubs surrounded by the beauty of a Finnish forest and the power of the midnight sun of the Northern summer.
Join the team of volunteers
Right now we are looking for volunteers to make the event possible to organize. Please fill the forms below if you are interested to be involved in one of the greatest events in Finnish Jamming Summer!
Volunteer Applications here
Early Bird Tickets on sale here
Workshop Apllication (for participants) here